Why JDog Junk Removal & Hauling
---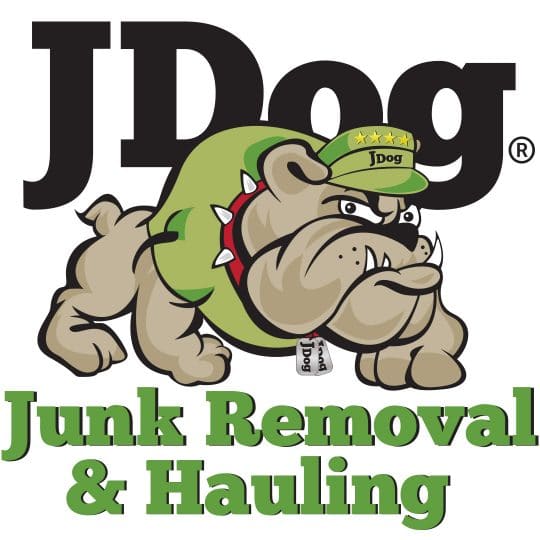 JDog Junk Removal & Hauling empowers Veterans by offering an eco-friendly residential and commercial junk removal business opportunity. JDog Junk Removal & Hauling provides dependable, sustainable, full-service junk removal and hauling services as well as peace of mind to their customers.
Call on JDog to come haul away old items of all kinds. We send a uniformed team of dedicated workers to provide transparent pricing, remove your junk, dispose of it responsibly, and tidy up afterward, all so you don't have to do a thing.
At JDog Junk Removal & Hauling, we promise free estimates, transparent pricing, on-time, and respectful service. Request a free estimate or call 844-GET-JDOG to request service today!
The JDog Junk Removal & Hauling Promise
Mission-Driven
We are on a mission to empower Veteran business ownership. We believe in Respect, Integrity, and Trust. We follow the principles of hard work, dedication, and community service.
Transparent Pricing
Our up-front junk removal pricing is based on weight and volume, and includes labor, travel, transport, and disposal or recycling. Get a free estimate and we'll contact you with pricing.
Eco-Friendly
We reuse, recycle, resell, and re-purpose your items whenever possible. 60-80% of the items we haul away are kept out of the landfill.
Respectful Service
We arrive when expected. We respect your time, your home and your belongings. We are licensed, where required, and fully insured.
---
What Our Customers Are Saying
Extremely professional, thorough and courteous
Caroline B., Narberth, PA
We had JDog out this morning to clean out our garage. They were extremely professional, thorough and courteous. I would highly recommend them to anyone looking to remove anything large or small. Thank you to Tom and his team!
I had nothing to worry about
Tina T., Ardmore, PA
I never knew a move could be so pain-free. With Thom at JDOG it really can be just that. He quickly and painlessly completed a move for me this week. Through his coordination with setting up our move and his delivery along with Tyler I had nothing to worry about — and that's the way I like it. Way to go Thom! Tina
Like magic
Terry B., Villanova, PA
Thanks for the Super Service. All I did was set an appointment, tell you what I wanted to be taken away, and like magic, all was gone. My Recommendation: USE THESE GUYS FOR REMOVAL OF JUNK.
Wonderful service!!
Stacey K., Havertown, PA
Wonderful service!! Way cheaper than getting a bagster or a dumpster and they do ALL the labor for you!! Very professional & courteous men!! We highly recommend them.
Professional, friendly and efficient!
Holly M., Upper Darby, PA
What a great experience! Professional, friendly and efficient! I will definitely be recommending JDog to friends and clients!
Definitely use this team!
Joe W., Lumberville, PA
The JDog team was great. Prompt, extremely professional, smart and represent our veterans well. Definitely use this team!
Friendly, prompt service, true to their word
Jean C., New Hope, PA
As a General manager of a storage facility, I have recommended JDog to some of my customers they do a nice job at a fair price. I love the fact that they have Veterans working for them and I have never had a complaint from a customer yet. Friendly, prompt service, true to their word.
I couldn't be more satisfied
John M., Newtown, PA
Chad & James just finished dismantling and removing a wooden shed from my yard. I couldn't be more satisfied with the job they did. Really glad I called them. Will definitely recommend them to everyone! Thanks again gentlemen. And a sincere Thank You for your service to our Country.
Would recommend them highly
Mary S., Richboro, PA
Used JDog to remove a lot of trash/recyclables/old furnishings from our aunt's house. They were prompt to return my initial inquiry/easy to deal with/scheduling junk removal was very easy and very prompt. And they worked very fast: a full trailer load in less than 90 minutes. Would use them again for sure if the situation arose. Would recommend them highly.
I will definitely use them again
Ray L., Bear, DE
Very easy to set up an appointment. They came out this morning ready to work. They cleaned out our garage and in less than an hour had it done. I will definitely use them again if needed.
Fabulous!
Deborah P., Newark, DE
Fabulous! On time – done professionally and quickly – cleaned up nice – very friendly – would definitely use them again / plus they are Vets!
Prompt, friendly, and efficient
Kailyn Z., Claymont, DE
I had a very pleasant experience working with Chad and his co-workers. I spoke with Chad on a Monday and by Thursday the items were removed from my house as well as my mother's house. These guys were great in coordinating two removals from two different houses in two different states! They were prompt, friendly, and efficient. Thanks so much, JDog team!
I needed a ton of deck lumber removed
Kali B., Hockessin, DE
I found JDog on Thursday going into Memorial Day weekend. I needed a ton of deck lumber removed when my local trash company failed to take everything in my scheduled special pick up. Chad not only responded to my request within minutes, but scheduled the removal for that day. The JDog work ethic and commitment to accommodating their clients is refreshing and made life so much easier going into the holiday weekend. I would highly recommend the JDog crew; they were great!
Best customer experience ever!
Amy S., Rockland, DE
Amazing response and service! My trash collector didn't take a large haul of boxes. After searching Google, I came across JDog- owned by Chad- and couldn't be happier. Within TWO hours, he and his crew pulled up and piled the boxes in their truck – with a smile!!! Every company should take notes from these guys – best customer experience ever!
Courteous and hard working!
Donna H., Kirkwood, PA
Hit the jackpot when I contacted this company! Promt reply, on time, professional, courteous and hard working! I have recommenced to everyone that this is who to call if you need the services they provide.
Great company to work with!
Tammy M., Quarryville, PA
This company was so helpful! Very quick response and scheduling. Sean, Riley and Ryan (brothers) were very professional and figured out the best and fastest way to remove very large (and heavy) pieces of furniture and pack them up in the most efficient way possible to maximize the truck space used. They even swept up all the "treasures" (junk) that had accumulated under the furniture! Fast, courteous, professional. Great company to work with! Highly recommend them!
Cannot recommend them more highly!
Becky L., Avondale, PA
JDog just came out to remove an old playset for me the day after I called them. I had asked two other groups to remove it, but because of its location behind the house, they told me it was too complicated and not worth their time. Chad and his team from JDog were extremely friendly and efficient. They arrived on time and had the playset down and in their trailer in about an hour. Then they cleared some junk from my garage in about 5 minutes, and all for a reasonable flat fee. Cannot recommend them more highly!
A pleasure to work with
Julie M., Chadds Ford, PA
Sean and Thom helped me out this week, moving an oversized couch and chair from Landenberg to West Grove. Both were a pleasure to work with and the job was completed very quickly. My kids also commented to me about using this Veteran based organization – what a great way to employ and support those who have served.
I'd give 10 stars if I could
Jack W., Cochranville, PA
This is truly a FIRST CLASS group of people. I'd give 10 stars if I could. These guys are your answer for any cleanup, haul out you need.