JDog Junk Removal and Hauling is your local junk remover located in Saratoga, New York. We're here for you when you're staging your home for sale, getting rid of old office computers, and replacing kitchen appliances. Our team is made up of Veterans, Veteran and Military family members, so we pride ourselves in serving you with Respect, Integrity, and Trust—the same values we lived by in the Military. We also show our community respect by donating and recycling 60% to 80% of what we haul to keep as much as out the landfill as possible. JDog Junk Removal & Hauling is ready to serve Saratoga County. Give us a call today at 844-GET-JDOG.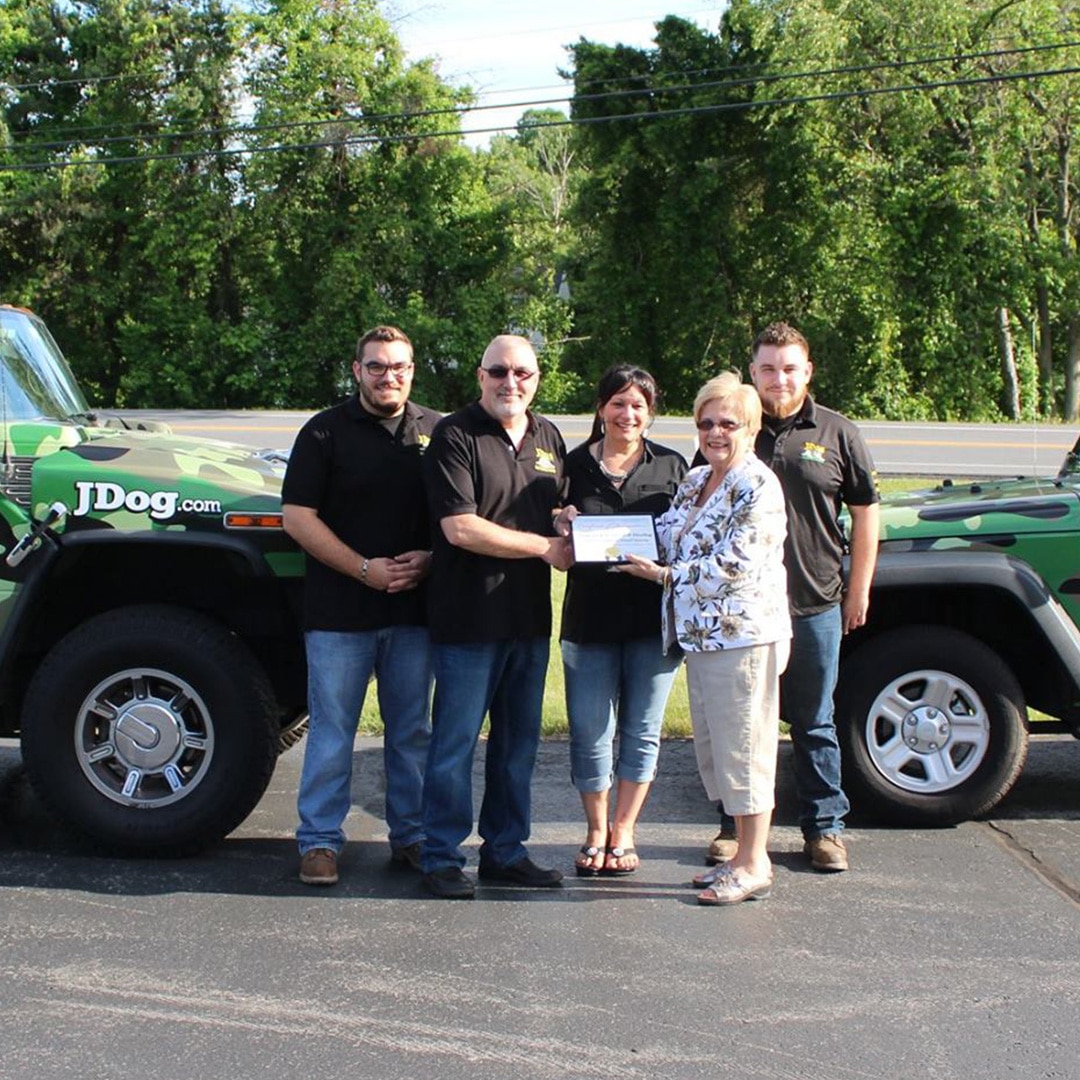 Gagnon Family
U.S. Marine Corps
Your New York JDog Team consists of Ray, Robin, RJ, and Kyle – The Gagnon Family! We are a Retired Marine Corps Family with 25 years of distinguished service and over 20 years in the Marine Corps Recruiting Command. We have served in multiple positions to include Recruiter, Sub-Station Commander, Regional Recruiter Instructor, Sales Field Trainer, District Director of Sales Training & Analysis, Director of Career Recruiter Course, National Recruiting Trainer and Analyst and National Training Team Chief.
Ray is a retired Marine Corps Master Gunnery Sergeant and the Founder, President, and Chief Consultant of Business Operational Success Systems Inc, a global provider of business and performance improvement programs. "BOSS" is a training and consulting company that works with businesses of all sizes to help them grow and prosper by transforming them into "High Performance Organizations". He is internationally recognized as a business builder, trainer, leader and mentor. Ray speaks professionally throughout North America at business conventions, retreats, conferences and company meetings. Creator of the MOJT, KAS, APPE and PESOS training systems, Ray uses his 30+ years of experience to help his clients increase sales, improve skills, refine processes and achieve organizational goals.
Robin serves as the CEO of "Gagnon Domestic Enterprises". She leads, coordinates and manages our family's life from the home front! She is responsible for all things family, friends, health and happiness! Robin is also a New York State Licensed Optician with over 30 years of experience. She has many years of experience managing and operating optical businesses throughout the region, starting with her family's optical practice when she was a teenager. Robin uses her many years of management experience, her love and devotion, as well as her 25 years of service as a Marine Corps Wife to coordinate, organize and manage all of the "Gagnon Boys"!
Robin and I have been married for over 24 years and we have two sons: RJ (Ray Jr.) who is 23 years old, has a bachelor's degree in History from SUNY Albany, attended Union College for graduate work, and is scheduled to study in London this fall for his Master's in Education. Our second son Kyle who is 22 years old, also a SUNY Albany Graduate with two bachelor's degrees in Mathematics and Economics, is currently serving as the General Manager of JDog Junk Removal & Hauling LLC – your locally owned & operated JDog Franchise.
Service Area
Ballston Lake
Ballston Spa
Cambridge
Clifton Park
Easton
Galway
Greenfield Center
Greenwich
Hoosick Falls
Malta
Mechanicville
Porters Corners
Rock City Falls
Round Lake
Saratoga Springs
Schaghticoke
Schuylerville
Stillwater
Wilton
The JDog Junk Removal Promise
Mission-Driven
We are on a mission to empower Veteran business ownership. We believe in Respect, Integrity, and Trust. We follow the principles of hard work, dedication, and community service.
Transparent Pricing
Our up-front junk removal pricing is based on weight and volume, and includes labor, travel, transport, and disposal or recycling. Get a free estimate and we'll contact you with pricing.
Eco-Friendly
We reuse, recycle, resell, and re-purpose your items whenever possible. 60-80% of the items we haul away are kept out of the landfill.
Respectful Service
We arrive when expected. We respect your time, your home and your belongings. We are licensed, where required, and fully insured.
---