We're JDog Junk Removal and Hauling, the trusted team of Veterans, Veteran and Military family members who are eager to serve you and haul away your junk in Atlanta, Georgia. Whether you are replacing your appliances, getting rid of office furniture, downsizing to an apartment downtown, or beginning a renovation project, we serve you with Respect, Integrity, and Trust—the same values we lived by in the Military. Striving to make our community a better place, we donate and recycle 60% to 80% of what we haul to keep as much as out the landfill as possible. Ready to start your home or business project in the Big Peach? Call your neighbors at JDog Junk Removal & Hauling today at 844-GET-JDOG.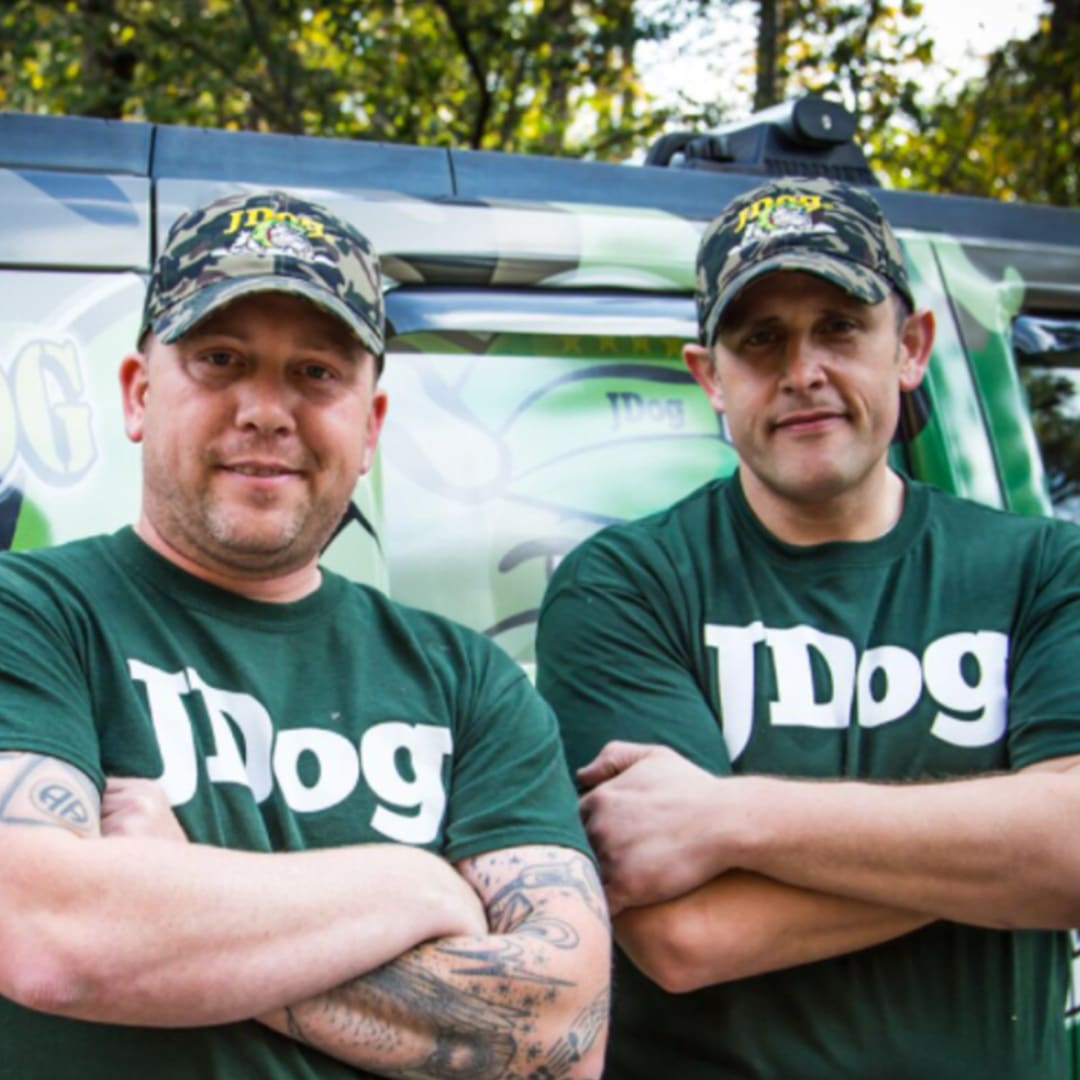 Joshua Polley & Jason Meadows
U.S. Army
Joshua Polley, COO
Joshua is a Veteran of the United States Army and was initially stationed at Fort Stewart, Georgia where he served as a Military Police Soldier. He also served as a Non-Commissioned Officer in Charge of Personal Security for the Garrison Command Group and spent time in both Iraq and Afghanistan. Although he left active duty in 2008, he continues to serve in the Georgia Army National Guard. Joshua received the Purple Heart, 4 Army Commendation Medals (one with valor device), 2 Army Achievement Medals, and the Combat Action Badge during his years of service.
Joshua met his wife, Jasmine, while they were both stationed at Hunter Army Airfield in Savannah, Georgia. Today, the couple have three children: Liam, Lily and Leo
Jason Meadows, CEO
Jason is a Veteran of the United States Army and was stationed in Anchorage, Alaska with the 4th Brigade 25th Infantry Division. Jason joined the Army in 2005 and became a team leader in an airborne infantry unit, where he served for four years. He also did a 14-month tour in Iraq, with area of operations, including Fallujah, and the Babil Province. Jason received a Purple Heart in Fallujah.
Upon his return home, Jason met Brooke, a school teacher in Cherokee County. The rest as they say – is history. Jason and Brooke recently had their first child, a beautiful little girl named Jamersyn.
In October of 2017, after both had run their own franchises, Jason and Josh opted to come together in an effort to better serve the people of Metro-Atlanta.
I am a Navy veteran of Desert Storm and a refugee from the corporate world where I worked in Finance & Marketing roles for over 20 years. I am originally from Arkansas but now live in beautiful Forsyth Co., GA with my two teenagers. I sing in my church choir and enjoy bicycling and hiking.
I decided to become part of the JDog family because of their commitment to the same values that led me to serve in the Navy: Respect, Integrity, Trust and Teamwork. These values are so often missing in Corporate America and I am proud to be part of the JDog family where there is genuine comradery and a willingness to serve our customers and our communities. I am committed to providing my customers an excellent experience with the same attitude and guided by these core values.
Please call today and experience the JDog difference for yourself and your family!
Service Area
College Park
Decatur
Buckhead
Gresham Park
Marietta
Douglasville
The JDog Junk Removal Promise
Mission-Driven
We are on a mission to empower Veteran business ownership. We believe in Respect, Integrity, and Trust. We follow the principles of hard work, dedication, and community service.
Transparent Pricing
Our up-front junk removal pricing is based on weight and volume, and includes labor, travel, transport, and disposal or recycling. Get a free estimate and we'll contact you with pricing.
Eco-Friendly
We reuse, recycle, resell, and re-purpose your items whenever possible. 60-80% of the items we haul away are kept out of the landfill.
Respectful Service
We arrive when expected. We respect your time, your home and your belongings. We are licensed, where required, and fully insured.
---