Can You Recycle Christmas Decorations?
Trees, Lights, Wreaths, & Tinsel
---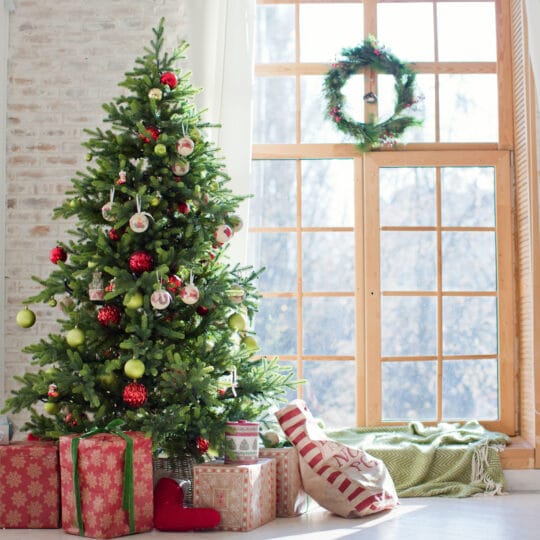 It's the magical time of year when your home is filled with twinkling lights, shiny decorates, and plenty of cheer. But when half of your light strand goes out and your tinsel is falling apart, it can all seem a little lackluster. Before you put your Christmas decorations out with your regular trash, consider if you can recycle them and keep unnecessary items out of the landfill.
Can You Recycle Christmas Decorations?
You can recycle most Christmas decorations! Unfortunately, it can be a little complicated as you'll likely have to take items apart and might have to make trips to different recycling centers.
Artificial Christmas trees. Many faux tree branches are made with PVC that can be processed by select recycling centers. Depending on the material, the base of the tree might be easy to recycle with your day-to-day recycling if you take off the branches. Search Earth911 to see local areas where you can donate the parts of the tree.
Real Christmas trees. While many waste management companies have Christmas tree pickup days, you can recycle your tree yourself and get even more joy out of it. Some people like to chop it up for firewood while others put it through a wood chipper to create mulch.
Artificial wreaths. Similar to the artificial Christmas trees, some parts of wreaths can be recycled. Take it apart, and set aside the faux branches for recycling. You'll likely have to put the styrofoam berries in the trash.
Tinsel. Tinsel today is often made from PVC, which is a hard-to-recycle plastic that requires a specialty recycling center. While recycling is the most responsible choice, many people end up putting it in their trash.
Christmas lights. Christmas lights can be recycled, but they can't be placed in your recycling bin. While you can take them apart and separate the plastics, you might be better off finding a Christmas lights recycling drive in your area.
Let JDog Junk Removal & Hauling Do the Work
Recycling and responsibly disposing of Christmas decorations isn't quite as simple as getting rid of your day-to-day items. The Veterans and Military family members at JDog Junk Removal & Hauling know the proper way to dispose of the decorations you don't want anymore. All you have to do is call us at 844-GET-JDOG and schedule a service today.