Appliance Removal Advice: What to Do With Old Models
Give your old appliances new life.
---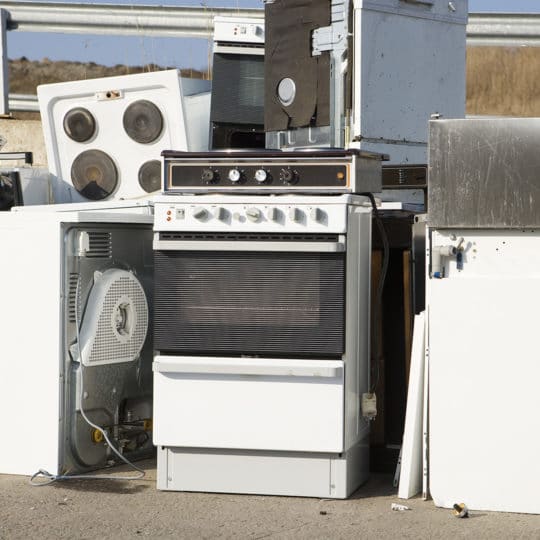 Older large appliances are a difficult item to get rid of once they've stopped working. Appliances that are still functional are often noisy, inefficient, and use more energy than they should. Trading up to a newer, energy-efficient model can pay off in the long run. But this leaves you with the task of getting rid of your old, unwanted model. Read on for some appliance removal advice.
Appliance Removal Advice
There are a number of different examples of large appliances. They mainly exist in the kitchen and laundry room, and include refrigerators, stoves, washing machines, dryers, and dishwashers, among others.
Give it a second life. Take your old, still-functioning appliance to be reused by a non-profit organization or charity. You can also try to sell it online or at a yard sale. You never know who's in need of an inexpensive appliance.
Recycle it. This is the best move if your appliance is no longer operational. Avoid wasting someone's time by strapping them with an appliance that will break down soon after you donate or sell it. If this is the case, have your item taken to a recycling facility to be disassembled for its parts and recycled.
Every appliance needs to be replaced eventually.  Although there are a few options for what to do with your old models, the problem remains: how do you get this big, bulky item out of your home?! Unfortunately, most trash companies will not pick them up. This means that curbside pickup is not an option. For many, a junk removal company like JDog Junk Removal & Hauling is the most convenient, economical option. At JDog Junk Removal & Hauling, we remove old appliances for you. We also find ways to responsibly and safely dispose of them. If they are in good working order, we will find someone in the community who can use them. If not, we'll take them to be recycled. Contact us today by calling

844-GET-JDOG

to schedule a pickup of your old appliances, or whatever else you need to have hauled away!