We're JDog Junk Removal and Hauling, a team of Veterans, Veteran and Military family members providing junk removal and hauling services for homes and businesses in our community of Buffalo, New York. Priding ourselves in keeping 60-80% of what we haul out of landfills, we recycle and donate what we can to keep our city as beautiful as possible. We serve you with the same values we learned in the Military—Respect, Integrity, and Trust—when you're clearing out your garage to make room for a canoe, staging your home for sale, and making improvements to an office building. When you're ready to start your big or small project and need a trustworthy neighbor to haul away your junk in The City of Good Neighbors, call us at 844-GET-JDOG.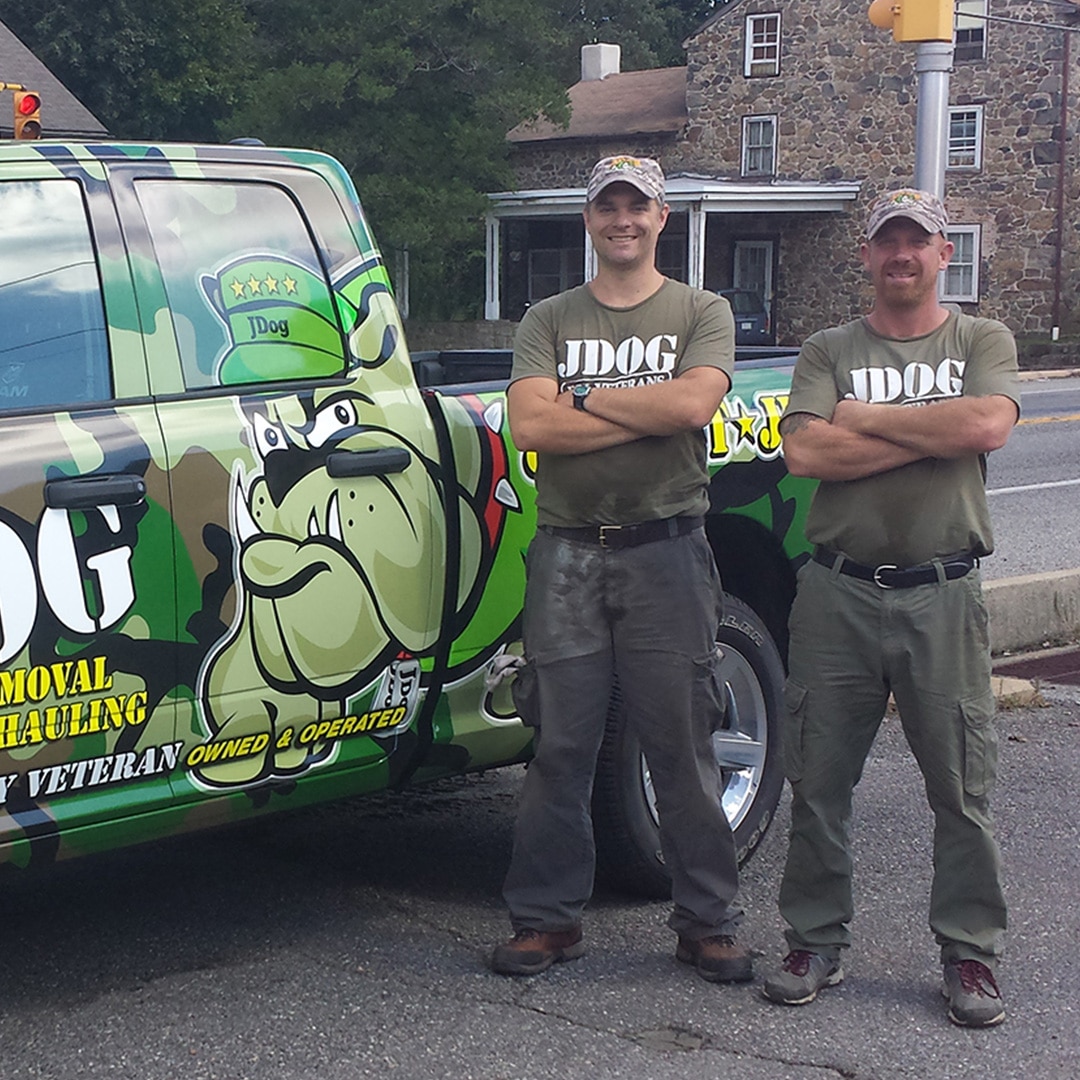 Scott Seiberg
U.S. Air Force
My name is Scott Seiberg and I am the owner of JDog Buffalo South. Following in my Fathers, Both Grandfathers, and 3 Uncle's footsteps, I volunteered to serve active duty in the United States Military. I served active duty for 4 years in The Air Force as a medic, and was deployed as part of the 383rd Air Expeditionary Force, part of Operation Southern Watch in the Persian Gulf. I used my G.I. Bill to work my way up to a Master's Degree in management.
Now, married with 2 children, I love to spend time with my friends and family, play golf, hunt and play fantasy football.
Together with my General Manager Michael Tierney, I am very excited to offer JDog services in the community, done military style, and help veterans get to work.
Service Area
Erie County
Chautauqua County
Catt County
Buffalo
West Seneca
Cheektowaga
Orchard Park
Hamburg
Lakawanna
Williamsville
Tonawanda
Jamestown
The JDog Junk Removal Promise
Mission-Driven
We are on a mission to empower Veteran business ownership. We believe in Respect, Integrity, and Trust. We follow the principles of hard work, dedication, and community service.
Transparent Pricing
Our up-front junk removal pricing is based on weight and volume, and includes labor, travel, transport, and disposal or recycling. Get a free estimate and we'll contact you with pricing.
Eco-Friendly
We reuse, recycle, resell, and re-purpose your items whenever possible. 60-80% of the items we haul away are kept out of the landfill.
Respectful Service
We arrive when expected. We respect your time, your home and your belongings. We are licensed, where required, and fully insured.
---