JDog Junk Removal and Hauling is your local junk removal team made up of Veterans, Veteran and Military family members located right in Anchor Bay, Michigan. Translating the Military's values of Respect, Integrity, and Trust to how we serve you, we are ready for you big and small projects, whether you are clearing out your garage, cleaning up your yard to make room for a sailboat, or making improvements to your restaurant. Plus, you can feel good about where your unwanted items are going because we donate and recycle 60% to 80% of the items we haul, keeping as much out of the landfill as possible. When you're ready to start your home or business project and need a trustworthy team to haul away your junk in our town, call us at 844-GET-JDOG.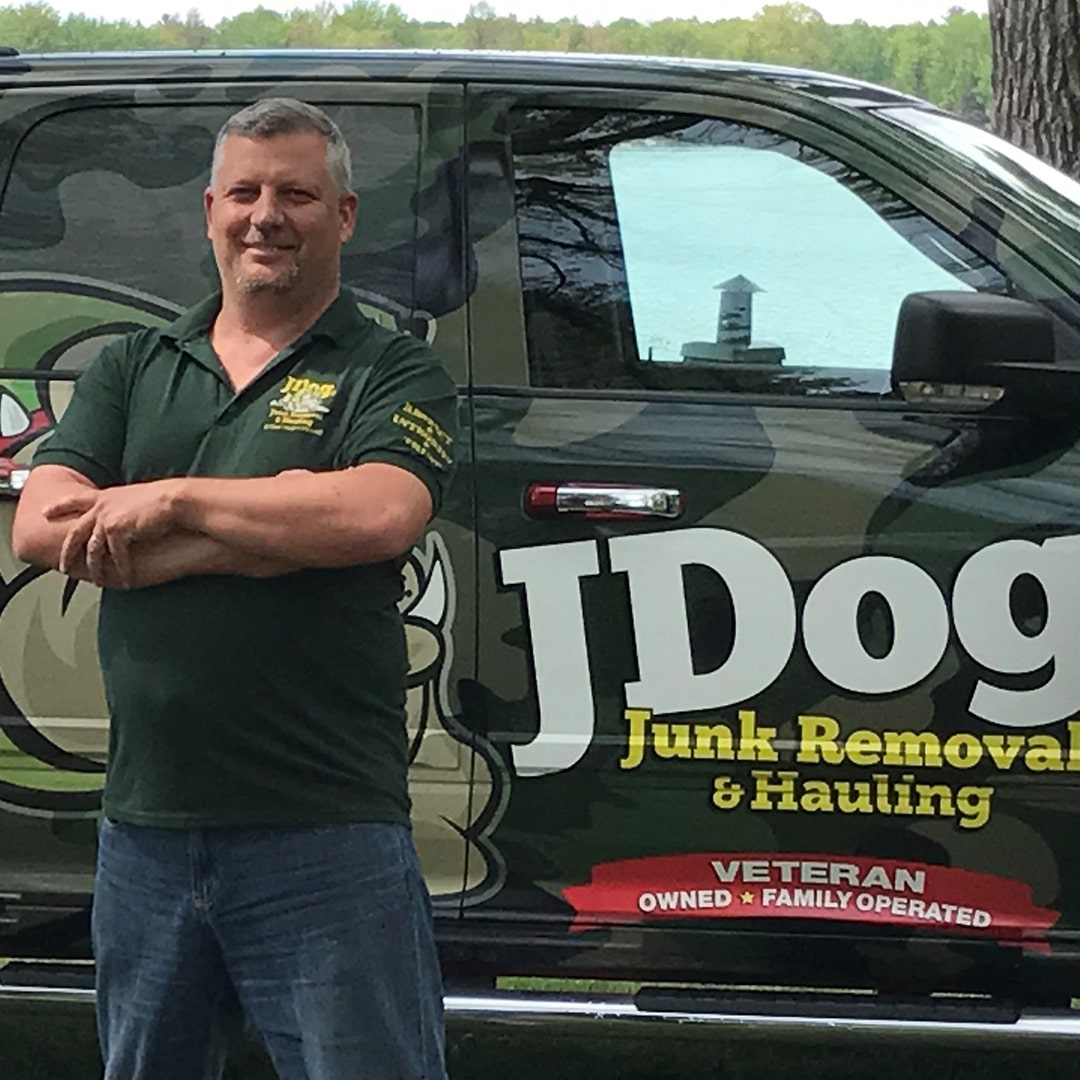 My name is, Stephen Warren, and the proud owner of JDog Michigan. I served a total of 14 years in the military with the first 9 ½ years in the Army and 4 ½ years in the Michigan National Guard. While I was on active duty, I served at Camp Tango, South Korea, Fort Monmouth, NJ and Fort Gordon, GA. At Ft. Monmouth I worked in research and development for tactical satellite systems. I was honored as NCO of the quarter at Ft. Monmouth and Army Material Corp in 1996 1st quarter. At Ft. Gordon I was a Lead Instructor for Satellite Communications systems training Army, Air Force, Navy, DOD Civilians, and Foreign soldiers. During my time in the Guard, I was called to active duty in Support of Operation Noble Eagle from April 2002 to February 2003 at Ft. Hamilton, New York City. I served as the Shift Supervisor of base security at Ft. Hamilton.
Here is the rest of your JDog MI team. It starts with my wife, Nancy, who has been a military dependent and wife for over 21 years. We have been married for over 25 years with two children. They are Katrina (19) and Steven (18). Both were born in Augusta, GA. My wife's father served for 24 years in the US Navy with 3 tours in Vietnam. During his first tour, he received a purple heart before retiring in 1982. My father served for 2 ½ years for the US Navy aboard the USS Saratoga.
We look forward in providing a quality service to our community. That will give us an opportunity to support and enrich the lives of our local veterans with our business. My entire family lives by the values of………. Respect, Integrity, and Trust. Many in body, One in mind.
Service Area
Algonac
Casco Township
Chesterfield
Clinton Township
Fair Haven
Harrison Township
IRA Township
Macomb Township
Marine City
New Baltimore
New Haven
Richmond
Romeo
Shelby
St Clair Shores
Sterling Heights
Utica
Warren
Washington Township
The JDog Junk Removal Promise
Mission-Driven
We are on a mission to empower Veteran business ownership. We believe in Respect, Integrity, and Trust. We follow the principles of hard work, dedication, and community service.
Transparent Pricing
Our up-front junk removal pricing is based on weight and volume, and includes labor, travel, transport, and disposal or recycling. Get a free estimate and we'll contact you with pricing.
Eco-Friendly
We reuse, recycle, resell, and re-purpose your items whenever possible. 60-80% of the items we haul away are kept out of the landfill.
Respectful Service
We arrive when expected. We respect your time, your home and your belongings. We are licensed, where required, and fully insured.
---