We're JDog Junk Removal and Hauling, a team of Veterans, Veteran and Military family members providing junk removal and hauling services for homes and businesses in our community of Columbus, Georgia. We serve you with Respect, Integrity, and Trust—the same values we lived by in the Military. Tackling projects of every size, we are here when you are preparing to put your home on the market, making room in the garage for a raft, getting rid of office furniture, and removing your back deck. You can feel great about where your unwanted items are going because we responsibly donate and recycle 60% to 80% of what we haul. Ready to start your home or business project? Call us today at 844-GET-JDOG.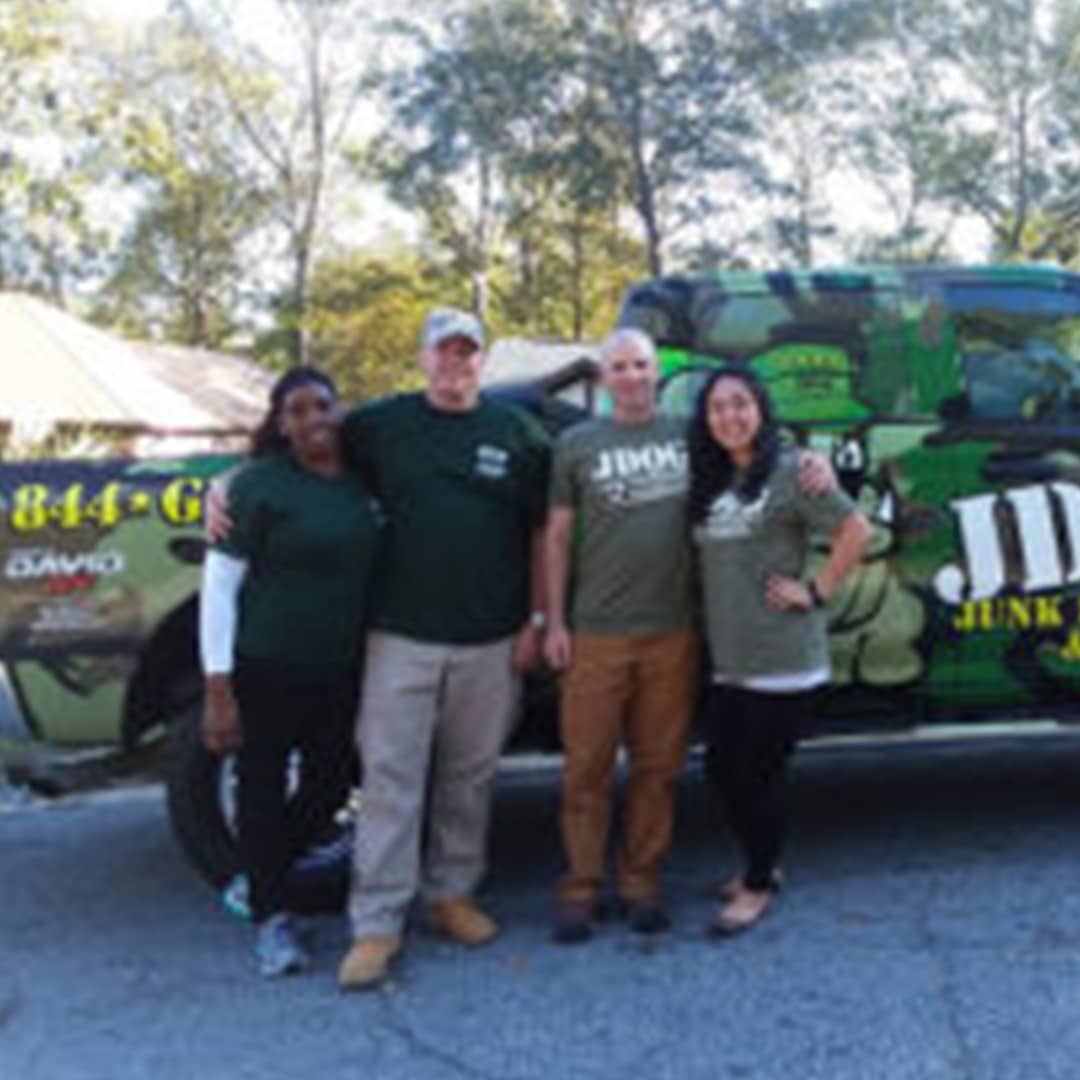 Nicholas Bain & Ryan Struck
U.S. Army
JDog Junk Removal & Hauling of Columbus, GA is owned and operated by Nicholas Bain and Ryan Struck. Nick and Ryan are both US Army Veterans who served together as part of the 3rd Infantry Division at Fort Benning, GA. As Soldiers, Nick and Ryan developed a strong friendship which has carried into their lives outside of the uniform.
Nick served honorably for 14 years on active duty and currently serves in the Army Reserves. During his military career, Nick served in multiple locations to include Alaska, South Korea, Georgia and Kuwait. Nick is happily married to Samantha and together have a beautiful family of five children and one grandson.
Ryan is currently serving on active duty as an Army Logistician. He joined the military in 2002 and has been fortunate to serve in numerous positions around the world to include Germany, South Korea, Egypt and Iraq. Ryan is a third-generation service member and is supported by his wonderful wife, Katherine.
We are excited to serve the community in our new capacity by hiring veterans and bringing solutions to your junk removal and hauling needs. We are committed to representing the JDog brand with the same values we learned as Soldiers – Respect, Integrity, and Trust. We are honored for the opportunity to bring a valuable service to the greater Columbus/Phenix City/ Fort Benning area.
Service Area
Bibb City
Cataula
Hamilton
Phenix City
The JDog Junk Removal Promise
Mission-Driven
We are on a mission to empower Veteran business ownership. We believe in Respect, Integrity, and Trust. We follow the principles of hard work, dedication, and community service.
Transparent Pricing
Our up-front junk removal pricing is based on weight and volume, and includes labor, travel, transport, and disposal or recycling. Get a free estimate and we'll contact you with pricing.
Eco-Friendly
We reuse, recycle, resell, and re-purpose your items whenever possible. 60-80% of the items we haul away are kept out of the landfill.
Respectful Service
We arrive when expected. We respect your time, your home and your belongings. We are licensed, where required, and fully insured.
---