JDog Junk Removal and Hauling is your local junk remover located in Centennial, Colorado. We're here for you when you're staging your home for sale, getting rid of old kitchen appliances, and renovating your bathroom. Our team is made up of Veterans, Veteran and Military family members, so we pride ourselves in serving you with Respect, Integrity, and Trust—the same values we lived by in the Military. We also show our community respect by donating and recycling 60% to 80% of what we haul to keep as much as out the landfill as possible. JDog Junk Removal & Hauling is ready to serve Arapahoe County. Give us a call today at 844-GET-JDOG.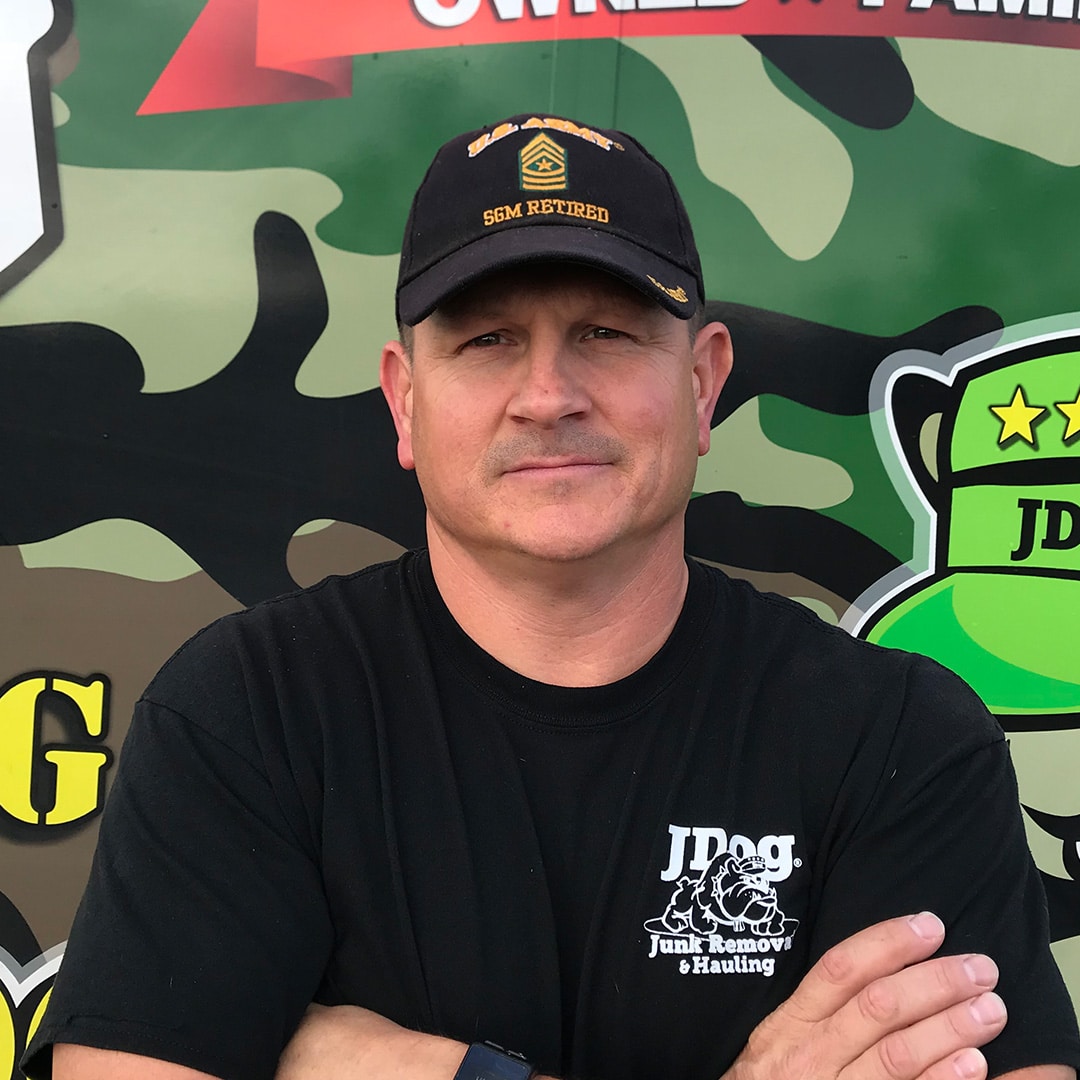 Hank McClellan was born and raised in Georgia and joined the U.S. Army right out of high school. His first duty station was Fort Carson in Colorado Springs where he met the love of his life and they have made Colorado their home (off and on) for over thirty years. He served at all levels in the Army from Infantry rifleman to strategic training and operation manager at the highest levels. He recently retired from military service after thirty three years and is excited about starting a new adventure.
Hank and Jennifer, his wife of thirty one years, have two adult children who have blessed them with four wonderful grandchildren. They enjoy spending time together, the great beauty of the Colorado outdoors, and going to Rockies baseball games. Hank also enjoys riding his Harley, exercising, competing in distance and mud runs, and the occasional golf game.
Hank knew he wanted to do something that would keep him physically active after military service and came across the JDog Franchise opportunity in a military entrepreneur magazine during a transition course. He was drawn to the opportunity to own his own business, especially one focused on Veterans helping Veterans. After talking to other franchisee instilled with similar military values he was hooked.
Hank's ultimate goal is to bring his son (an Air Force Technical Sergeant) and the rest of his family into the business and build something that can be passed down for generations.
The JDog Junk Removal Promise
Mission-Driven
We are on a mission to empower Veteran business ownership. We believe in Respect, Integrity, and Trust. We follow the principles of hard work, dedication, and community service.
Transparent Pricing
Our up-front junk removal pricing is based on weight and volume, and includes labor, travel, transport, and disposal or recycling. Get a free estimate and we'll contact you with pricing.
Eco-Friendly
We reuse, recycle, resell, and re-purpose your items whenever possible. 60-80% of the items we haul away are kept out of the landfill.
Respectful Service
We arrive when expected. We respect your time, your home and your belongings. We are licensed, where required, and fully insured.
---