Repurpose Your Trampoline
4 Fun Options
---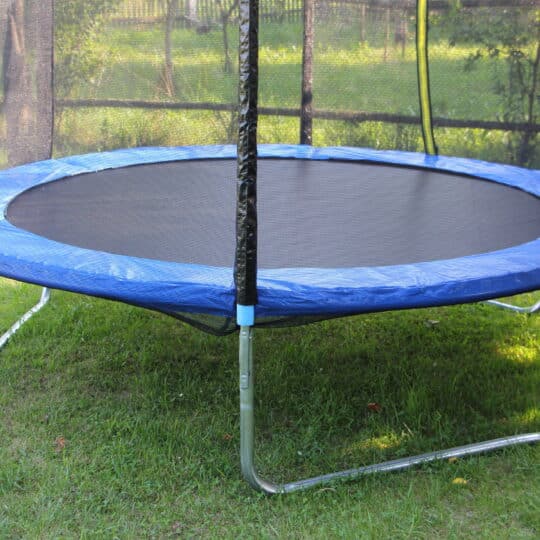 Trampolines are a source of endless fun and excitement for families and individuals alike. However, as time goes by, there may come a point when you find yourself with a trampoline that is no longer in use or has reached the end of its lifespan. Rather than letting it gather dust or sending it to the landfill, why not explore creative ways to repurpose your unwanted trampoline? Read on and be inspired by several innovative ideas that will give your trampoline a new lease on life and bring joy to your outdoor space.
Creative Ways to Repurpose Your Trampoline
Tranquil Garden Oasis: Transform your trampoline into a peaceful retreat by repurposing it as a unique garden oasis. Remove the mat and springs, leaving the sturdy frame intact. Lay down a weed barrier and add a layer of soil. With careful planning, you can create a multi-level garden with cascading flowers, vibrant plants, and even a small pond or fountain.
Sensational Shade Canopy: If you're in need of some shade in your backyard, repurpose your trampoline into a stylish canopy. Remove the mat and springs, leaving the frame intact. Cover the frame with weather-resistant fabric, such as outdoor canvas or shade cloth, creating a cozy and shaded seating area underneath. You can even add curtains for added privacy and ambiance.
Unique Outdoor Lounge: Give your trampoline a second life as a comfortable outdoor lounge area. Remove the jumping mat and springs, and cover the frame with weather-resistant cushions and pillows. Add a sturdy coffee table or ottoman in the center, and you now have a cozy seating area perfect for relaxing, reading a book, or enjoying a cup of coffee.
Fitness and Exercise Station: Don't let your trampoline go to waste when it can be repurposed as a fitness and exercise station. Remove the mat and springs, and place a durable exercise mat on top of the frame. Use the trampoline's bounce to your advantage by incorporating trampoline-based exercises into your workout routine.
Want It Gone? Call JDog Junk Removal & Hauling.
Skip the stress of making those arrangements and call the Veterans at JDog Junk Removal & Hauling instead. We'll arrive on time and in uniform and take care of it all. Plus, we recycle and donate 60% to 80% of the items we haul so you can feel good about where your old playground is going. Call us today at 844-GET-JDOG to schedule your trampoline removal.