How to Get Rid of an Old Trampoline
4 Options
---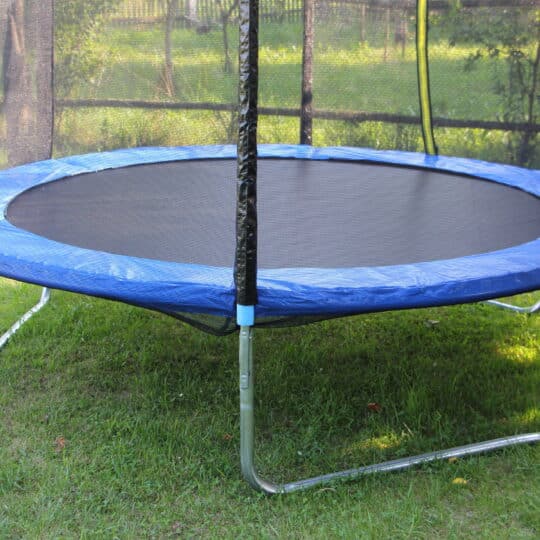 Whether you've outgrown your trampoline or it's seen better days, getting rid of it is often the best option for decluttering your backyard. But don't just throw it out—there are plenty of ways to get rid of your old trampoline and even repurpose it for something new so it doesn't end up in the landfill. Let's explore some options available to homeowners who no longer want their trampoline.
Give It Away: If your old trampoline is still in relatively good shape, you can give it away for free. Posting on Facebook Marketplace or other local community websites is a great way to find someone who will come pick up the trampoline and put it to good use. Ask your neighbors, and it's sure to be snagged quickly.
Sell It: Similarly, if you'd like to make a few bucks on your old trampoline, you may be able to make some money by selling it online or locally. Local buy/sell/trade Facebook groups are a popular choice. Just make sure that anyone interested knows what they're getting into—buying a used trampoline requires a certain amount of maintenance and upkeep over time and you don't want to pass off an unsafe one.
Upcycle It: Are you creative? You can have fun turning your old trampoline into something new! For instance, turn the metal frame into a firepit for backyard gatherings, use the mat as fabric for outdoor cushions, or hang flower pots from the frame using rope or chain links! Check out tutorials online to get inspiration.
Call JDog Junk Removal & Hauling to have it hauled away. Skip the stress of making those arrangements and call the Veterans at JDog Junk Removal & Hauling instead. We'll arrive on time and in uniform and take care of it all. Plus, we recycle and donate 60% to 80% of the items we haul so you can feel good about where your old playground is going. Call us today at 844-GET-JDOG to schedule your trampoline removal.