How to Responsibly Dispose of Christmas Decorations
Trees, Lights, Wreaths, & Tinsel
---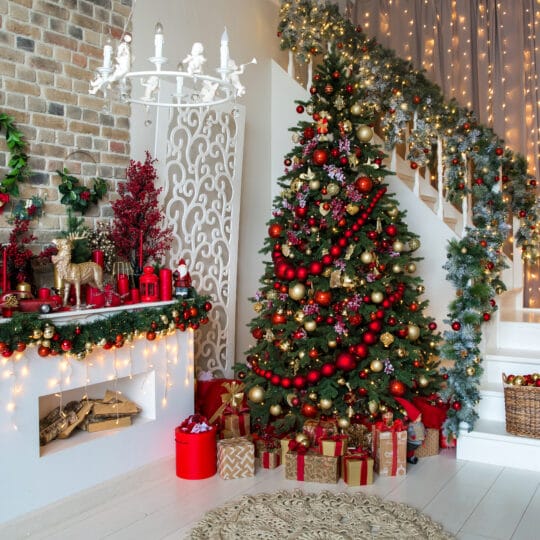 Time to put away holiday cheer until next year. Learn how to responsibly dispose of the Christmas decorations you don't want anymore. Hint: you might not want to put them on the curb with the rest of your trash.
How to Responsibly Dispose of Christmas Decorations
Christmas Trees
Real: Many people choose to put their Christmas tree on the curb for their waste management company to take. Did you know even your real Christmas tree can be recycled? While your recycling company won't take it, you can repurpose it yourself! Chop it up for firewood or turn it into mulch.
Artificial: Faux tree branches tend to be made with PVC that can be processed by select recycling centers but not all, so you'll have to check out the recycling centers in your area. The base of the tree, however, might be easy to recycle with your day-to-day recycling if you take off the branches. Search Earth911 to see local areas where you can donate the parts of the tree.
Also, you might find some organizations in the area that will take your artificial tree if it's still in good condition.
Christmas Lights
Did you know components of Christmas lights can be recycled? They're another item that can't simply be put in your recycling bin because cords and wires can get tangled in machinery. While you can take them apart and separate the plastics, you might be better off finding a Christmas lights recycling drive in your area. Some major stores even have events!
Artificial Wreaths
Like artificial Christmas trees, you can recycle many components of artificial wreaths at proper recycling centers. Take off any decorations like styrofoam berries or bows, and search for a center that accepts the materials your wreath is made of.
Tinsel
Unfortunately, tinsel today is often made from PVC, which is a hard-to-recycle plastic. You'll need to find a specialty recycling center in your area or put it out with your regular trash.
JDog Junk Removal & Hauling Knows How to Responsibly Dispose of Christmas Decorations
Skip the guesswork and trips to multiple recycling centers! The Veterans and Military family members at JDog Junk Removal & Hauling know the proper way to dispose of the decorations you don't want anymore. All you have to do is call us at 844-GET-JDOG and schedule a service today.