Recycling Appliances: A Helpful Guide
What to do with your unwanted items
---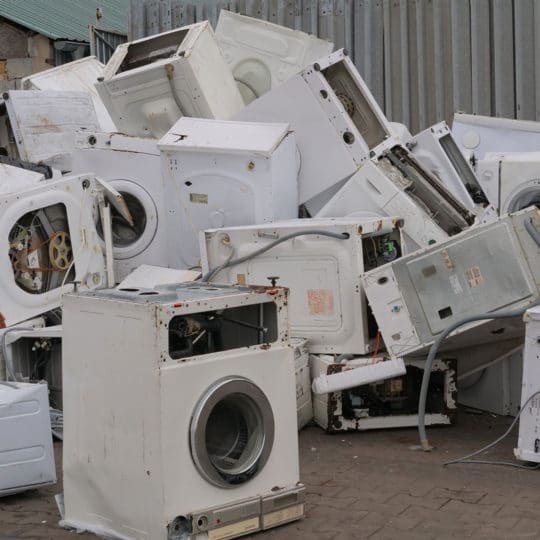 Every appliance reaches the point where it's no longer useful to you. You might be upgrading, or it's just not doing the job anymore. Whatever the reason, we encourage you to explore options for getting rid of it that doesn't involve tossing it into a landfill. Read on to learn a few ways of recycling appliances.
Our Advice for Recycling Appliances
Look around locally.
Many local municipalities accept large appliance for a small fee. Ask your trash company if they'll accept periodic large recyclables. The fee helps offset the costs associated with disposing of the hazardous chemicals inside appliances.
Google nearby recycling facilities and, if you're able, try hauling your old appliance yourself. If you can't do it yourself, a junk hauling company like JDog Junk Removal & Hauling will be up to the task. Be sure to ask the company if your specific appliance will be accepted.
Before getting rid of an old appliance, be sure to empty it out (this particularly applies to refrigerators and freezers).
When purchasing a new appliance, ask the retailer about their recycling policy. Many retailers encourage metal recycling and offer to take away the old item you're replacing when they deliver the new one.
Charities are another great place to turn, especially if your appliance is still in a fully functioning condition. Habitat for Humanity, for example, is an organization that is always accepting functioning and non-functioning appliances. They even offer free pickup services. You can also contact nearby shelters and community centers.
We Can Help With Recycling Appliances
When it is time to replace your old appliances, removing them on your own can be a tough task. Luckily, JDog Junk Removal & Hauling is here to serve and dispose of your old appliances responsibly. Just contact us today by calling 844-GET-JDOG to schedule a pickup of your old appliance… or anything else you might need to have hauled away.