Refrigerator Removal: How to Do it Responsibly
Environmentally friendly methods for refrigerator removal
---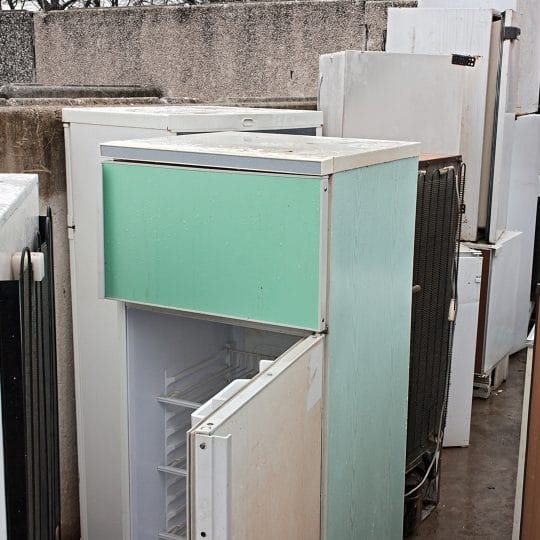 Why Refrigerators Shouldn't End Up in Landfills
Refrigerator removal is an age-old problem for homeowners. The average refrigerator lasts about 11 to 20 years, yet many are thrown away well before they stop working. Refrigerators contain substances that leach into the soil and pollute the air. Obviously, this is harmful to the environment, so it's best not to throw refrigerators into a dump with household trash. Instead, read on to learn a few alternative methods for refrigerator removal.
Responsible Refrigerator Removal: Reuse
Donate or Sell: Your first and best option is to offer up an old fridge to friends and family. You can also do some research online to see if there are any local charities in need of a working refrigerator. If you can use the cash, try selling it online on eBay or Craigslist. The only downside is the tough task of transporting your bulky old fridge.
Retailer: When you purchase a new refrigerator, ask if they offer a service that removes the old one when the new fridge is delivered.
Local Municipality Collections: Some local governments and trash companies provide a periodic collection service for old appliances. This usually includes refrigerators. For a small fee, you can be confident that your old items will be taken to reputable recycling centers. There are a couple of cons of this removal method, though. First, you'll have to transport it yourself. In addition, the collection times are often few and far between in frequency.
Junk Removal Companies: Finally, the most convenient option is to contact a waste removal company. Junk removal companies come to you and do all the heavy lifting. This means they can deliver your fridge to the charity, friend, or recycling center of your choice. The team at JDog Junk Removal & Hauling knows where to take your old refrigerator and other large appliances for responsible disposal. Call

844-GET-JDOG

today to schedule a refrigerator pickup.