Garage Sale Tips
How to Have a Successful Sale
---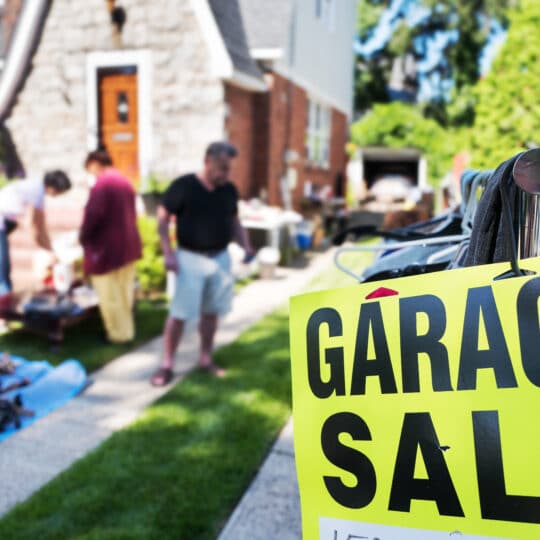 With spring right around the corner, spring cleaning is coming up, too! As you're tackling the clutter that has accumulated in your home, you might find there are many things in good condition that you just don't need or want anymore. It's the perfect time to schedule a garage sale! You can make some money, and your items can stay out of the landfill. Ready to get planning? Use these garage sale tips to help.
Garage Sale Tips
Get the neighborhood involved. Make your sale even more tempting for avid yardsale goers by getting neighbors involved for a major event. Being able to stop by multiple "shops" in one trip is a bonus for many garage sale enthusiasts, and you will be able to attract more visitors.
Utilize marketing. Post on social media, add your address to yard sale sites like Yard Sale Search, and place signs by roads nearby. You can get crafty with posterboard or check out your local home improvement store for pre-made signs.
Price accordingly. Your desk set may have cost you hundreds of dollars, but that doesn't mean it's worth nearly that much anymore. A yard sale isn't so much about recouping your costs as it is for making a few bucks on things you don't need anymore. Plus, you have the bonus of not having to take care of donating, throwing away, or recycling on your own.
Consider quality. It can be tempting to put a price tag on every item you don't want, but not everything is suitable for a second owner. Clothing with holes, toys with missing pieces, and coffee-stained mugs aren't likely good items to try to sell. If a browser comes to check out your sale, these items will make it look like you didn't take care of the rest of the things you have for sale. Instead, offer gently used clothing, toys that have been cleaned first, and cookware that isn't sporting serious scratches or chips.
Call JDog Junk Removal & Hauling when you're done. Not everything will be sold at your yard sale, and you'll need to figure out what to do with the items left over. Simply call JDog Junk Removal & Hauling, and we'll handle it all! We responsibly donate and recycle 60% to 80% of the items we haul so you can feel good knowing that you may not have been able to sell an item, but it's not going to a landfill. Call us today at

844-GET-JDOG

to schedule a pickup.